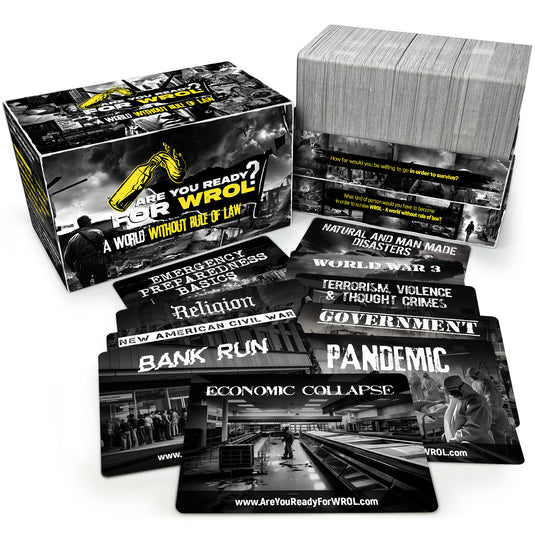 Could You Survive A World Without The Rule Of Law?
Unravel the harrowing complexities of survival through a series of 300 eye-opening scenarios, all inspired by or based on past real-life events. Human nature is always the same, and thats why it is said that, "History doesn't repeat itself, but it does rhyme.
It's about understanding and discovering. How would your loved ones behave in extreme circumstances? What decisions would they make? What sacrifices would they be willing to endure? What kind of person would you have to become in order to survive?
An engaging and thought-provoking conversation starter that will enhance the problem-solving skills of participants.
Strengthen bonds, develop mental resilience, and prepare for life's challenges under stressful situations.
Sharpen your conflict resolution skills, improve stress management, develop empathy, cultural and ethical, understanding, increase your self awareness and your awareness of human nature in general.
Ideal for couples, families, friends, and team building.
These respectfully written cards are suitable for anyone age 16 and older.
If you are easily "triggered" by thinking or talking about stressful situations, do not purchase or participate in conversations involving these cards.
Buy Now
Calculated Automatically At Checkout
FREE SHIPPING ANYWHERE IN THE USA WHEN YOU SPEND $35 OR MORE
We can only ship orders inside the USA at the moment, stay tuned for a global shipping update